The Commands.dat file is essentially a list of commands the server will execute before it starts.
Each command should be placed on a new line. For example, if you wanted to whitelist the server, set the welcome message to "Hello World", and set the port of the server using the Commands.dat file, you would enter:
whitelist
port 1234
welcome Hello World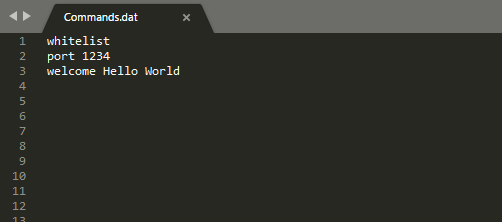 That's really all there is to it! Whenever you want to add a new command, add it to the list and restart your server for it to be applied. Almost all commands can be used in the Commands.dat file. Check out our Unturned commands list to view them all, with help and syntax information.